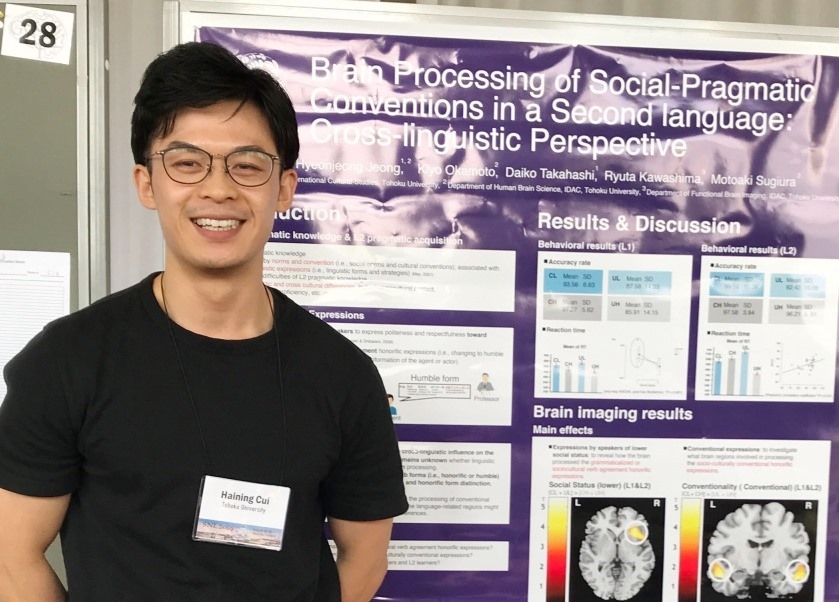 ---
The Neurolinguistic Journey in Helsinki

Hainning Cui
Graduate School of International Cultural Studies and Dept. of Human Brain Science (IDAC)


"THE CONFERENCE"

---

The Society for Neurobiological of Language (SNL) is a conference that is held every year in either Europe or North America. With great gratitude and support from IDAC, I had the chance to join this year's SNL conference at Helsinki, Finland. During the four days at the conference, I attended many lectures as well as symposiums that covered various topics on neurolinguistic studies. I was impressed to see so many researchers interested in language processing, who all had different perspectives and methods to share. The talks that I attended have deeply broadened my understanding of how neurocognitive approaches could contribute to explain linguistic theories, second language learning, as well as clinical applications.
At the SNL conference, I presented my research "Brain Processing of Socio-Pragmatic Conventions in a Second Language: Cross-Linguistic Perspectives," and described the fMRI experiments at IDAC where my lab mates and I tested how Chinese learners of the Japanese language processed the honorific expressions compared to native Japanese speakers. Our findings suggested that due to the cross-linguistic differences between Chinese and Japanese, Chinese learners had a different neural mechanism from the native speakers in processing the Japanese "grammaticalized honorific expressions". Our poster attracted lots of visitors who were also interested in second language processing. Best of all, I made several friends from different countries and had great time with all of them at the conference.
The city of Helsinki: I would also like to share my impressions of Helsinki. The city is located in the southern part of Finland. As we all know, Finland is a country located near the north pole at a high latitude; therefore, at the time of the conference, Helsinki's short summer had already ended, but the weather was still cool enough to make me feel cozy. I stayed in an Airbnb apartment, which was around 20 mins away from the conference on foot, which was great as I was able to observe the city and its environment during my "commute". I found out that Helsinki is a very environment-friendly city with a lot of bicycle riders and few car drivers. The town has many roads that are exclusive to bicycle riders as the local government encourage people to use public transportation. During the conference, the city of Helsinki even offered free city pass tickets for all the conference attendees. I was quite impressed by their generosity and was also surprised how well the local government cooperated with the education sector.
In the end, I'd like to express my humble appreciation to IDAC for supporting me and allowing me to join this conference. Also, I want to say thank you to my professors and lab mates who have all guided and helped me with my study, thank you!
名前:崔 海寧

所属:人間脳科学研究分野
(国際文化研究科 博士2年)