---
IDAC Fellow Research Group:
The Department of Neuro Imaging promotes interdisciplinary research in an environment with a world-leading combination of application-oriented brain imaging, analysis and clinical expertise for the definition, diagnosis and treatment of neurological and psychiatric disorders. Recently, we were selected and awarded the SNMMI Image of the Year: In Vivo Selective Imaging of Tau Pathology in Alzheimer's Disease with F-18 THK 5117.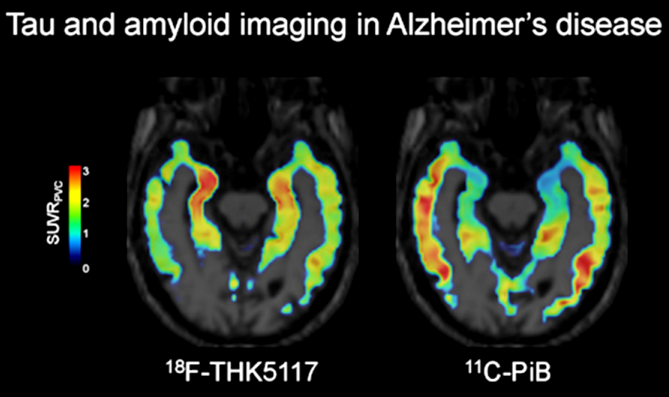 As of December 16, 2014, the intellectual property rights for the Tau Imaging Probe was licensed out to GE Healthcare through the Clinofibrate Co., Ltd (Campus Venture). Furthermore, between June 17, 2014 – 2016, the Tau Imaging Probe developed in the Kudo Laboratory were sent out to basic clinical collaborative research institutions and companies, totaling 98 facilities.
---
PUBLICATIONS OF THIS LAB:
1) Furukawa K, Ishiki A, Tomita N, Onaka Y, Saito H, Nakamichi T, Hara K, Kusano Y, Ebara M, Arata Y, Sakota M, Miyazawa I, Totsune T, Okinaga S, Okamura N, Kudo Y, Arai H: Introduction and overview of the special issue "Brain imaging and aging": The new era of neuroimaging in aging research. Ageing Res Rev. 2016 Mar 11. pii: S1568-1637(16)30019-8. doi: 10.1016/j.arr.2016.02.005
2) Brendel M, Jaworska A, Probst F, Overhoff F, Korzhova V, Lindner S, Carlsen J, Bartenstein P, Harada R, Kudo Y, Haass C, Van Leuven F, Okamura N, Herms J, Rominger A: Small-Animal PET Imaging of Tau Pathology with 18F-THK5117 in 2 Transgenic Mouse Models. J Nucl Med. 2016 May;57(5):792-8. doi: 10.2967/jnumed.115.163493
3) Okamura N,Harada R,Furukawa K,Furumoto S,Tago T,Yanai K,Arai H,Kudo Y.: Advances in the development of PET rasiotracers and their clinical applications. Ageing Res Rev. 2016 Jan 21. pii: S1568-1637(15)30045-3. doi: 10.1016/j.arr.2015.12.010Ageing
4) Harada R, Okamura N, Furumoto S, Tago T, Yanai K, Arai H, Kudo Y: Characteristics of Tau and Its Ligands in PET Imaging. Biomolecules. 2016 Jan 6;6(1):7. doi: 10.3390/biom6010007
5) Tago T, Furumoto S, Okamura N, Harada R, Adachi H, Ishikawa Y, Yanai K, Iwata R, Kudo Y: Structure-Activity Relationship of 2-Arylquinolines as PET Imaging Tracers for Tau Pathology in Alzheimer Disease. J Nucl Med. 2016 Apr;57(4):608-14. doi: 10.2967/jnumed.115.166652
6) Harada R, Okamura N, Furumoto S, Furukawa K, Ishiki A, Tomita N, Tago T, Hiraoka K, Watanuki S, Shidahara M, Miyake M, Ishikawa Y, Matsuda R, Inami A, Yoshikawa T, Funaki Y, Iwata R, Tashiro M, Yanai K, Arai H, Kudo Y: 18F-THK5351: A Novel PET Radiotracer for Imaging Neurofibrillary Pathology in Alzheimer Disease. J Nucl Med. 2016 Feb;57(2):208-14. doi: 10.2967/jnumed.115.164848
7) Ishiki A, Okamura N, Furukawa K, Furumoto S, Harada R, Tomita N, Hiraoka K, Watanuki S, Ishikawa Y, Tago T, Funaki Y, Iwata R, Tashiro M, Yanai K, Kudo Y, Arai H: Longitudinal Assessment of Tau Pathology in Patients with Alzheimer's Disease Using [18F]THK-5117 Positron Emission Tomography. PLoS One. 2015 Oct 13;10(10):e0140311. doi: 10.1371/journal.pone.0140311
8) Tago T, Furumoto S, Okamura N, Harada R, Adachi H, Ishikawa Y, Yanai K, Iwata R, Kudo Y: Preclinical Evaluation of [(18)F]THK-5105 Enantiomers: Effects of Chirality on Its Effectiveness as a Tau Imaging Radiotracer. Mol Imaging Biol. 2016 Apr;18(2):258-66. doi: 10.1007/s11307-015-0879-8
9) Shidahara M, Watabe H, Tashiro M, Okamura N, Furumoto S, Watanuki S, Furukawa K, Arakawa Y, Funaki Y, Iwata R, Gonda K, Kudo Y, Arai H, Ishiwata K, Yanai K: Quantitative kinetic analysis of PET amyloid imaging agents [(11)C]BF227 and [(18)F]FACT in human brain. Nucl Med Biol. 2015 Sep;42(9):734-44. doi: 10.1016
10) Harada R, Okamura N, Furumoto S, Furukawa K, Ishiki A, Tomita N, Hiraoka K, Watanuki S, Shidahara M, Miyake M, Ishikawa Y, Matsuda R, Inami A, Yoshikawa T, Tago T, Funaki Y, Iwata R, Tashiro M, Yanai K, Arai H, Kudo Y: [(18)F]THK-5117 PET for assessing neurofibrillary pathology in Alzheimer's disease. Eur J Nucl Med Mol Imaging. 2015 Jun;42(7):1052-61. doi: 10.1007/s00259-015-3035-4
11) Li Y, Tsui W, Rusinek H, Butler T, Mosconi L, Pirraglia E, Mozley D, Vallabhajosula S, Harada R, Furumoto S, Furukawa K, Arai H, Kudo Y, Okamura N, de Leon MJ: Cortical laminar binding of PET amyloid and tau tracers in Alzheimer disease. J Nucl Med. 2015 Feb;56(2):270-3. doi: 10.2967/jnumed.114.149229