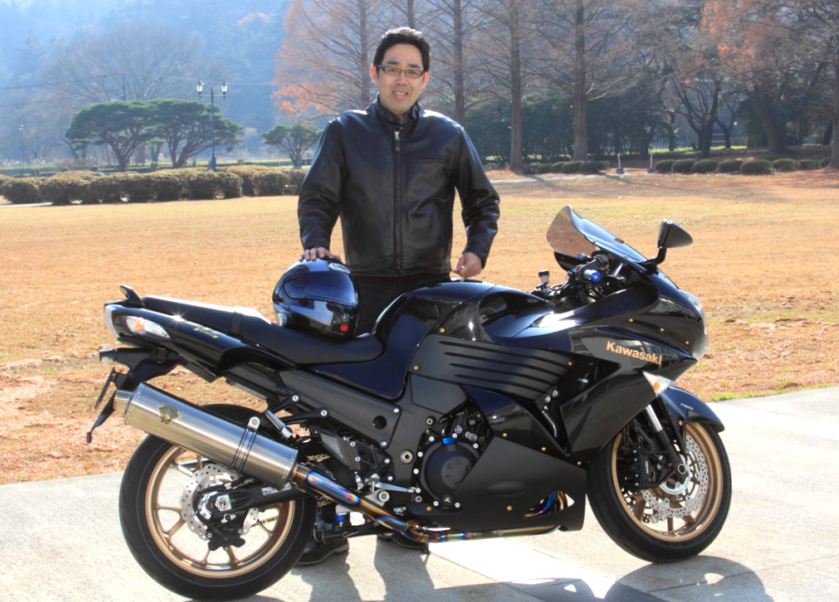 ---
"LIVE TO RIDE and RIDE TO LIVE!"

Ryuta Kawashima, MD
Director

Field: Functional Brain Imaging
Hometown: Chiba Prefecture
Hobbies: Riding Superbikes

---

As Director of IDAC, I'm busy everyday and there's nothing better than riding my Kawasaki Ninja ZX-14R to wash away my stress! On my day offs, I wake-up early in the morning to chase the sunrise while riding along the picturesque winding roads leading up to Mt. Zao. When I reach the summit, I hurry back home in time for breakfast, sit on the table, put on a big smile and pretend I never even left the house.
A few times a year, I join the Sugo Riding Academy where I can go full-throttle on a professional race track. I love the track because it has always been my dream to ride like the wind; and at times, I really feel like I am, only to realize that I can't keep up with the much younger racers.
Obviously, if I crash, it will hurt. This is why I strongly believe in safety first, and I'm relieved that I live in a society where many of us think that it is better to be safe than sorry. As a rider, we learn at an early stage in our training that it is vital to be responsible for our actions as the risks are so great, and I think that this is one of the charms of riding.

"LIVE TO RIDE and RIDE TO LIVE!" -Ryuta